When you obsess over detail and impose high standards on your product, it's always hard work, but occasionally you get a project that's just a breeze and this is one of those.
Perhaps it's no surprise when you take the long established custodians of the worlds finest cloth and bring them together with the makers of the most luxurious swim-short, the result is going to be the epitome of something remarkable. And that is what was intended here, an evolution of our famous Clipper short to showcase the pedigree of the pattern and transition it to create a truly elegant, fully tailored ready to wear garment.
Introducing the Fox Ivy Check Shorts made with and exclusively for The Merchant Fox.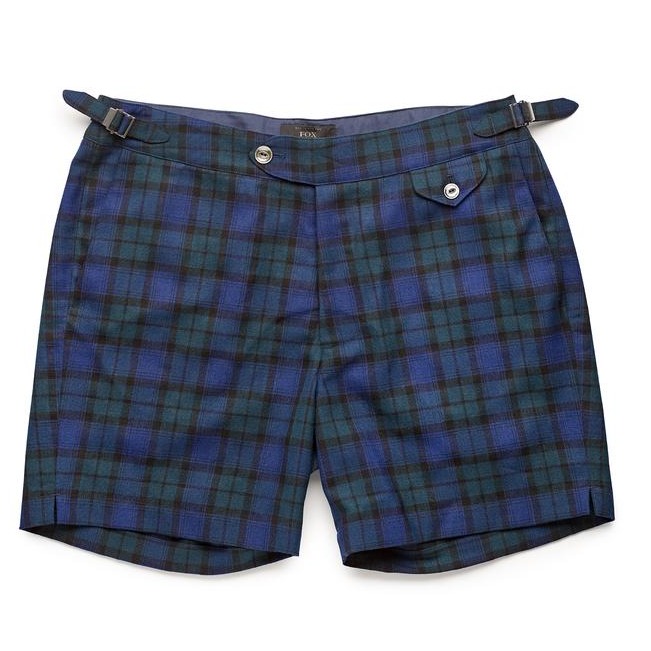 A short with excessive detailing and solid colours like the Fox Khaki cottons that give such a luxe finish with a depth of colour that is stunning. Designed with some simple changes in detailing but cut from the very finest Fox cloth, this Clipper evolution is designed to be a timeless classic.
So how did this collaboration come about?
For those unaware, The Merchant Fox is an emporium of world-class, timeless design and the creation of beautiful, remarkable things. It also happens to be the retail arm of Fox Brothers and co. the woollen mill established in 1772 recognised for producing the world's finest flannel and worsted cloths. It was born from the collective vision of Deborah Meaden and Douglas Cordeaux to bring the skills and crafts of the British Isles together in a one luxury brand. A curation of a select number of manufacturers producing fine luxury goods with provenance. Passionate about the manufacturing heritage of the British Isles and the future of manufacturing in Britain, Today they offer customers the opportunity to acquire products that are made with the utmost care and that will last for generations – creating the heirlooms of the future.
Speaking with our Creative Director, Henry Butler "I am fortunate to have enjoyed a long relationship with Fox Brothers and everyone there over the last fifteen years or so, especially Douglas, so it's a real pleasure to collaborate with them on something that's such a natural and easy fit.
Douglas has championed our garments and our approach to menswear from the start so it was only a matter of time before we came together to work on the creation of something.
Because we are very keen with Hemingsworth to develop limited runs of exclusive products with our retail partners, it just keeps the offer fresh and interesting across the market and allows the retailer to offer our brand but with a little of their handwriting. And with online retail it is especially important to let the customer find these uncommon offerings as we are all suddenly on the same high street, and this is how we keep it exciting and make the experience special. So, when Douglas first mooted the idea of a collab, of course we jumped at it.
Our products have rich provenance whether it be the maker or the material used. Our customers like to know they have something special, something rare in their possession.
They have been selling our Clipper short in The Merchant Fox for some time and, keen to make their offer more exclusive across the board, it was such a natural progression for the Clipper and the Kulbir to transition into a tailored swim short for day wear that all we really had to do was pick the cloths. It doesn't get any easier when all parties are able to bring what they do to the table.
Of course that's not entirely true, ever infatuated with the minutia of construction we had a few small amendments to make on our patterns, over and above removing the stretch inner lining for swim. Most notably there was a seam added to the inner waistband to allow the Fox Air versions to have their waistbands lined with Fox Khaki cotton twill to sit next to the skin.
The Fox Ivy Check Swim Shorts look amazing and really fit with the Hemingsworth aesthetic, which has elements of classic British and European silhouettes along with an American Ivy influence. These will be well received in the Japanese market, I'm sure with the solid colours really show the detail of our styles.
Better yet for those wanting more, there is also a swim selection and again the fabrics and colours are exclusive to The Merchant Fox, look out for the Prince of Wales check – you know it makes sense.
It's such an accolade to have the tailoring credentials of our patterns given proper recognition by a real authority like this, and we're really looking forward to future drops of more exclusive cloths and colours."
Made in London like all Hemingsworth Clipper Swim Shorts, naturally the Fox Ivy Check Short has all the features you would expect including our signature integral rear belt for ease that adjusts the fit of the waistband with sliding side adjusters. And of course our French fly keeping the flat front ever clean and smooth. Buttons are unpolished Tahitian Mother of Pearl, the natural lustre and colour of this variety picking out hues from any fabric that it sits on. All in all a neat but relaxed fit for classic Ivy style.
Pre-order the Fox Ivy Check Clipper Shorts online on The Merchant Fox website