pool side sophistication
Sweden's most elegant gentleman's outfitter, Oscar Jacobson, has partnered with Hemingsworth, the globetrotting creator of the world's most luxurious swim shorts. Together, they have created a new collection of swim shorts, designed and made in England in a strictly limited edition of 150 pairs.
Based on Heminsgworth's timeless Clipper and Kulbir designs, these finely tailored swimshorts are crafted in London, elegantly designed and primed for all-day wear. Just in time for Summer and gentleman getting ready to escape the city.
Wanting to fill the gap in the market for sartorially-minded men who dress well whatever the occasion and who want a truly tailored swim short experience, beyond gimmicks or slim fit shorts that are misleadingly marketed as being tailored.
Oscar Jacobson's Creative Director Carl-Johan Frisk reflects on the near-120-year journey of their customer "The Oscar Jacobson man is modern, has integrity and confidence; he has stories to tell and a unique way of telling them, the kind of man that brings a party to life with his presence. That freedom, the self-confidence and focus on quality, are present in the Clipper and Kulbir shorts which is what both brands have strived to create. A garment that looks incredible but will stand up to the strenuous test of poolside chlorine, sea salts and high exposure to sun."
Oscar Jacobson – Swedish heritage
Made in Sweden since 1903, Oscar Jacobson epitomises Swedish heritage, craftsmanship and elegance. The Swedish attitude strives for humanity, freedom, democracy, equality and care for the planet. All of this is expressed in Oscar Jacobson's design and build-quality.
"We have admired Hemingsworth's uncompromising attitude for some time now from afar. Partnering with brands is not something we consider lightly in an age where there are increasingly many collaborations. Nearly 120 years heritage in tailoring has allowed us to take these skills into other ready to wear, always considering the details that our customers have come to expect. When it comes to swim, there was only one choice to make the perfect accompaniment swimshort for the OJ man who we recognise now more than ever, will be wanting to get away." – Richard Woodbridge – CEO, Oscar Jacobson.
Hemingsworth – made in England
Hemingsworth's shorts are made in London, allowing us to blend heritage Saville row tailoring with the latest technology and cutting-edge fabrics. The understated brand was born out of the desire to set a new standard in luxury tailored swimwear, one that reflects uncompromising English quality using the world's most luxurious and advanced fabrics and fittings in order to create unparalleled luxury with timeless style for the modern globetrotting man. Famously favoured by celebrities, A-listers and C-suite execs who want to do more with less when hopping between climes.
The process
Taking cutting-edge fabrics and materials and cutting every piece of cloth by hand ensures that every pair of our swim shorts is finished to perfection. 56 separate pieces and 17 hand-finished stages are involved in crafting each and every pair of their Clipper swim shorts.
This is a short designed for those everyday wardrobes that are akin to wearing Oscar Jacobson, Loro Piana and Brioni. This is about moving sartorial swim on with timeless fabric and colour choices that elevate poolside sophistication"

– Matt Jones, Founder of Hemingsworth.
For Hemingsworth and Oscar Jacobson, there is no such thing as too much attention to detail. Every detail is considered, right down to the mother of pearl buttons from Italy and flat buckles tooled especially for us in Germany. All the shorts in this collection have a French Fly and a hidden adjustable waist band. A little touch that guarantees extreme comfort all day, in and out of the water.
The small and considered collection features three shorts across two patterns – all exclusive to Oscar Jacobson stores and selected partners.
Hemingsworth's Gurkha swimshorts take their name from Kulbir Thapa, the first Gurkha regiment solider to be awarded the Victoria Cross for gallantry. These are shorts designed to effortlessly move between casual and formal settings, with luxurious details including Tahitian mother of pearl buttons.
NAVY SEERSUCKER KULBIR SWIM SHORT
Crossover belt fastening waistband
Polished metal side adjuster buckles
Tahitian, mother of pearl buttons
Side angle entry hip pockets with mesh half liner – perfect for letting water through but keeping your keys safe
Quick drying exclusive fabric with a poly/cotton end on end blend
Resistant to chlorine, salt water and fading from sunlight
Luxurious stretch Lycra mesh lining with matching stretch Lycra trim
Machine washable
Designed & made in England
The Clipper swim short is made using a 29 piece pattern and 17 hand finished stages, featuring Hemingsworth's unique adjustable waistband, offering unmatched comfort and style, from poolside mornings to sophisticated al-fresco evenings.
LIGHT BLUE AND WHITE SEERSUCKER CLIPPER SWIM SHORT
Integral, side adjustable tailored 6-piece waistband
Polished metal sliding bar side adjuster buckles
French fly, button front closure with fly zip & metal Hemingsworth logo puller
Tahitian, mother of pearl buttons
Side angle entry hip pockets with mesh half liner – perfect for letting water through but keeping your keys safe
Front coin pocket with mesh half liner and buttoned flap closure
Quick drying exclusive fabric with a polyamide and poly/cotton blend
Resistant to chlorine, salt water and fading from sunlight
Highest quality stretch Lycra mesh lining with matching stretch Lycra trim
Machine washable
Designed & made in England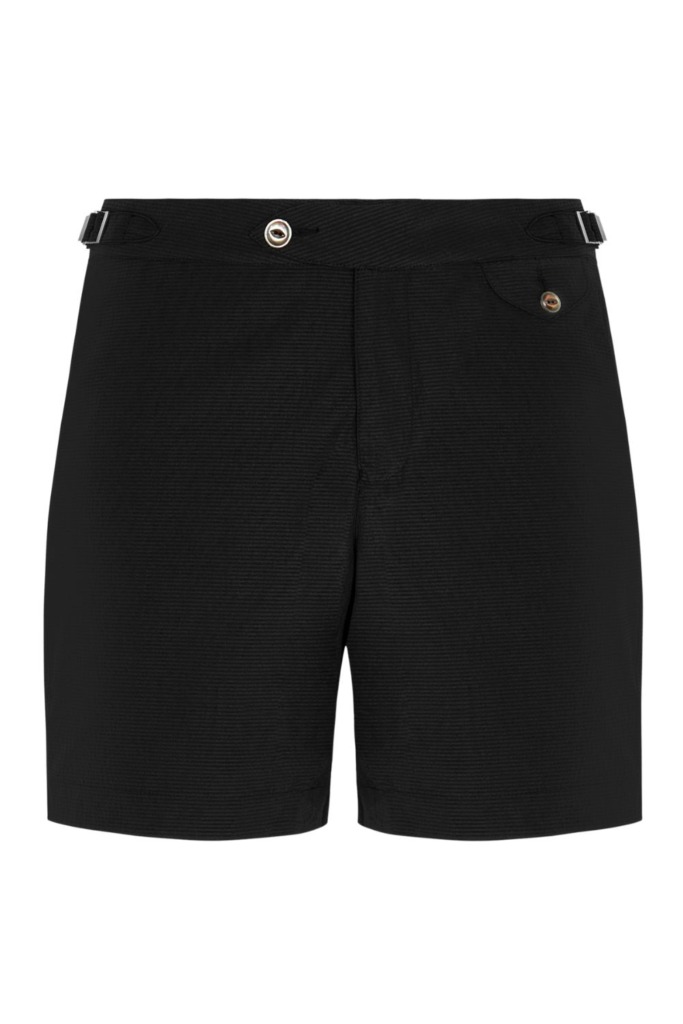 BLACK SEERSUCKER CLIPPER SWIM SHORT
Integral, side adjustable tailored 6-piece waistband
Polished metal sliding bar side adjuster buckles
French fly, button front closure with fly zip & metal Hemingsworth logo puller
Tahitian, mother of pearl buttons
Side angle entry hip pockets with mesh half liner – perfect for letting water through but keeping your keys safe
Front coin pocket with mesh half liner and buttoned flap closure
Quick drying exclusive fabric with a polyamide and poly/cotton blend
Resistant to chlorine, salt water and fading from sunlight
Highest quality stretch Lycra mesh lining with matching stretch Lycra trim
Machine washable
Designed & made in England